About Ascent
Learn Without Bounds
Your Moment Is Now!
Immersive Learning in Church Ministries
Ascent College reimagines the optimal learning experience. With respect for the past and an eye towards a future of rapid change, Ascent College's hybrid, immersive degree programs better equip students by being able to instantly apply Biblical concepts, ministerial best practices, and leadership lessons learned.
Students may study for one year to earn a Diploma in Ministry Leadership, add a second year to fulfill the requirements for an Associate's Degree in Ministry Leadership, or double the effort to be awarded a Bachelor's Degree. The four-year program also offers students eight concentration options: Ministerial Leadership, Biblical Studies, Children's Ministry Leadership, Christian Counseling with a Focus in Psychology, Christian Counseling with a Focus in Pastoral Counseling, Intercultural Studies, Worship Leadership, and Youth Ministry Leadership. 
Ascent's non-classroom model improves the affordability of an accredited education with a per credit cost of only $300. The on-demand learning delivery also enables students to schedule their studies around family, employment, and other obligations.
Members of partner sites and married couples may qualify for a 25% discount on tuition. Inquire for details.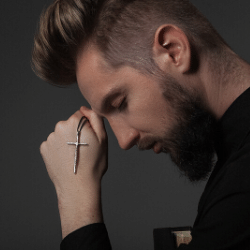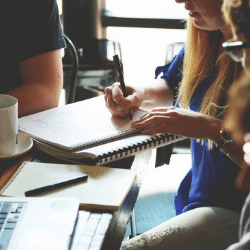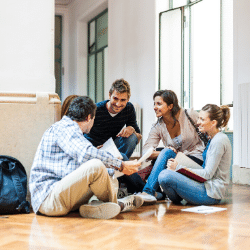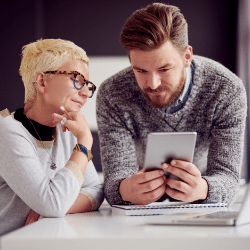 Meet Jeremy
a day in the life of an Ascent College student
Attend a class.
Read a book.
Draft a paper.
Go to work for four hours.
Design the entirety of a church service in two weeks. Plan community outreach strategies with the lead pastor.
Oh, and assist an elder with leading a grief counseling group!
Jeremy took another sip of fresh coffee then noted his top tasks for today in his favorite calendar app on his phone. He flipped up the screen on his laptop and took a deep breath as his mind was challenged with thoughts of all to be done. It very easily could have felt overwhelming. Yet, the purpose of each task was clear and eternal. He took a moment to whisper a quick prayer of thanks for the unique, opportunities in ministry that awaited him through the hours ahead.
As is the case for most college students, Jeremy's day today is rather busy with coursework. Yet, his academic studies will be punctuated by learning experiences that will take him beyond the bounds of book covers and classroom walls. Jeremy will get to witness the realities of ministry leadership and actively participate in applying his learning to real-world. circumstances.
Jeremy is a student at Ascent College and is pursuing a Bachelor's Degree in Church Ministries with a concentration. in Christian Counseling. He has never stepped foot in a classroom nor met one of his professors in-person. Nonetheless, every day his education is very real and immersive as his enrollment at Ascent College has him embedded among the staff of a loving, supportive church host community.
Meet Us
We are visiting churches, schools, and college fairs all over the Mid-Atlantic region. Come say hello.
Talk With Us
Our college and career advisors can review your options at Ascent, answer questions, and share program details.
EXPLORE OUR BEGINNINGS
Ascent College began as a pilot program at Bethel College in Hampton, VA.  To learn more about the history of Ascent College, click below.
Christ-centered.
Globally-purposed.
Your Moment Is Now!
Head Office
PO Box 690, Gainesville, VA 20156-0690
Ascent College's financial aid school code is 041538. It may display as Bethel College, the former name of Ascent College.
Ascent College admits students of any race, color, nationality, or ethnic origin to all the rights, privileges, programs, and activities generally accorded or made available to students at the school. It does not discriminate on the basis of race, color, gender, handicap, national, and ethnic origin in administration of its educational policies, admissions policies, and other school-administered programs.